Pitlochrie activities provide the best farm stay experience
On arrival at Pitlochrie you will be given a bird list – over 220 species recorded – and a map showing our various hiking trails, some of which can be mountain biked (own equipment necessary).
Bring your tennis racquets and balls for some clay court fun and your cozzie for the best river/rock pool swimming. Pack a picnic for the beautiful picnic spots and lazy day experiences.
We offer:
Tennis*, Badminton, Croquet, Boules, Pool#, Darts, Table Tennis#, Board Games, Piano, Running, Walking, Hiking, Cycling*, 40km Fly-fishing*, Birding, Wild flowers, Rock art outings+, Scenic drives
*own equipment +pre-bookings only #Farmhouse only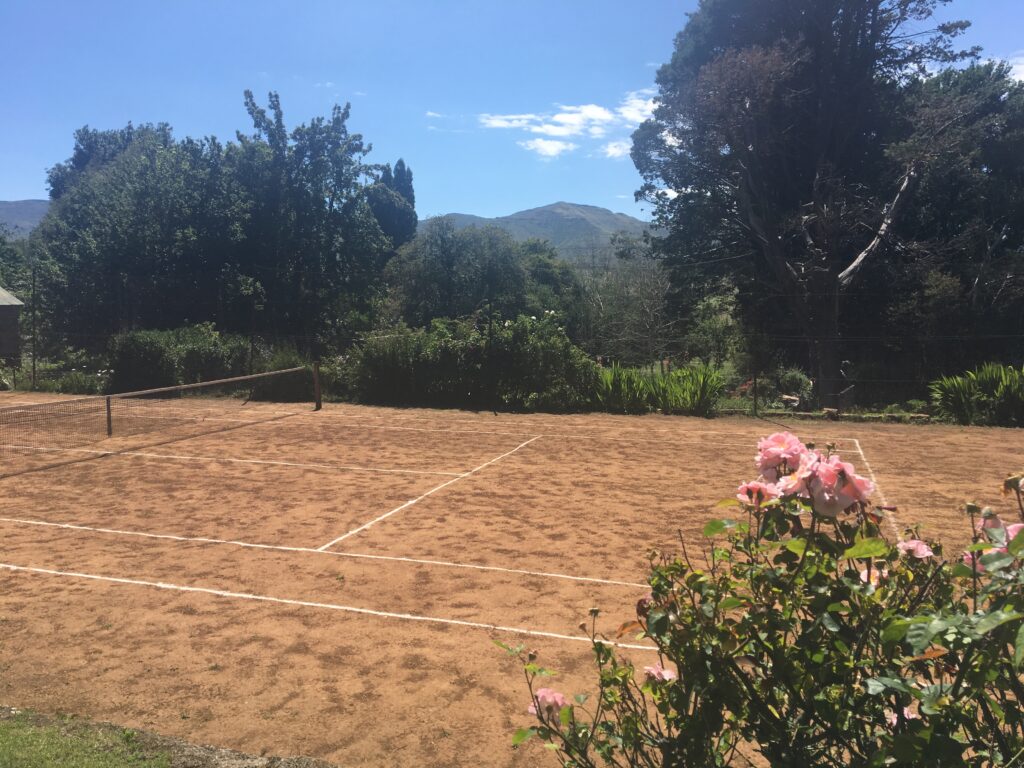 Take a drive into Barkly East for a good coffee and treat, explore our local museum or meander into the historic village of Rhodes for lunch.
We follow eco-farming practices to conserve the natural environment and the many species of wild plants and animals which you will encounter in this mountain landscape. Please follow the 'take nothing with, leave nothing behind' ethic.
Enjoy the best farm stay experience!
Hiking, trail running & mountain biking
Step outside your accommodation into a variety of mountain wilderness trails. From easy strolls exploring the many valleys and streams that wend their way down the mountains, to our Skyrun Teaser, Pitlochrie 10 Peak Challenge, Pitlochrie 30km High-Mountain Challenge and Pitlochrie Vertical 650, we have trails to suit every person. Altitudes range between 1700 and 2769m above sea level.
Please let us know your interests and fitness and we will recommend a trail for you. We also provide trail maps so you can explore this exceptional mountain wilderness in freedom. If you would like a guide for a fee, please let us know. Thapelo Taole is an NQF 2 tourist guide and will be happy to show you the way. Please tip him generously.
8 Passes Challenge + 1
We added another beauty. Pitlochrie is centrally located for you to enjoy some of the best and most exceptional mountain scenery of the 9 passes. Generally, in good weather conditions the passes can be driven in high clearance 2×4's except for the Bastervoetpad and Volunteer's Hoek which require 4×4.
Please check road conditions before you plan your 9 passes challenge. Barkly Pass is the only tarred road. If you need a place to stay in Maclear, ask us to recommend the best!
The passes are:
Joubert's Pass:                 Pitlochrie to Lady Grey
Lundean's Nek:                Pitlochrie to Telle Bridge border via Wartrail
Volunteer's Hoek:            Pitlochrie to Tiffindell Ski Resort via Wartrail
Carlisles' Hoek:                Tiffindell to Pitlochrie via Rhodes
Naude's Nek:                    Pitlochrie to Maclear via Rhodes
Pitseng Pass:                    Pitlochrie to Mount Fletcher via Naude's Nek
Bastervoetpad:                Pitlochrie to Ugie
Barkly Pass:                      Pitlochrie to Elliot via Barkly East
Otto du Plessis:             Pitlochrie to Elliot via Clifford
Rock Art
The rock art of the Barkly East and Wartrail areas is world famous for its incredible preservation and detailed imagery. The San or Bushmen were the first people of this area and have left an awe-inspiring story in their paintings. Specialist rock art tours can be booked with local expert, archaeologist Dawn Green. She is doing her PhD in archaeology with the University of Cape Town focusing on the paintings of these areas.
If you have just a passing interest or want to experience something different book our local farm guide Thapelo Taole to see a rock art site or two for a fee. Please contact us for more information on our specialist tours with Dawn or for an afternoon's outing with Thapelo. As always with our staff, please tip generously.
Fly Fishing
Pitlochrie has just over 10km of world class river, the Three Drifts. We have access to a further 30km of river – on the Diepspruit and the Kraai river. The river boasts good populations of wild Rainbow Trout, and lower down, Yellowfish. The source of the river is just below our highest mountain, Avoca Peak (2769m). It later joins the Diepspruit river, and then the mighty Kraai – fish this entire section!
The largest fish caught on the river was a 60 cm rainbow hen. Usually the fish range from 20 to 45 cm with anything over 45 cm considered a good fish. We have had excellent rains so the trout population this 2023 spawning season was good.
Yellow fish swim upstream in the Diepspruit during the summer months to spawn. Trout usually start congregating in the higher reaches of the river in late autumn. Contact us to find out about fishing conditions. Own equipment necessary.
Sky Run
Joe Sephton is one of the founders of Skyrun and he and Dawn Green have finished 18 between them. Skyrun used to finish in Rhodes, then at Tiffindell Ski Resort, and now at the wonderful Wartrail Club. Part of the Skyrun route falls on Pitlochrie, from Avoca Peak to just beyond the Skiddaw checkpoint, and includes the notable Dragon's Back.
If you need to train for Skyrun or want to taste a bit of the experience, we are perfectly placed. We offer the Skyrun Teaser for anyone to enjoy. We are also a comfortable base for runners and their seconds – enjoy the pleasure of the mountains during the race and after, to regain your strength. Please contact us if you need advice, we'd love to hear from you!
Wild Flowers
Discover the addiction of identifying the thousands of wild flower species that are found in these mountains. From the tiniest Crassula sp.to the tall Dierama sp, from the exquisite beauty of the Zaluzianskya sp to the amazing carpets of Erica sp, a world of wonder awaits.
We also claim our very own species named for our father and legend, Paul Sephton. Check out Ornithogalum sephtonii. Make sure to bring Elsa Pooley's 'Mountain flowers' and 'A field guide to wild flowers' to aid in your identifications. Best times for flowers are November/December and March/April but it is rain dependent.
Don't miss out on the farm stay adventure of a lifetime! If you need more information or advice, please contact us.
We'd love to hear from you!