Welcome to Pitlochrie Cottages Recipes.
Here is Pitlochrie Cottages recipe for elder flower cordial – thanks to the great Mary Berry.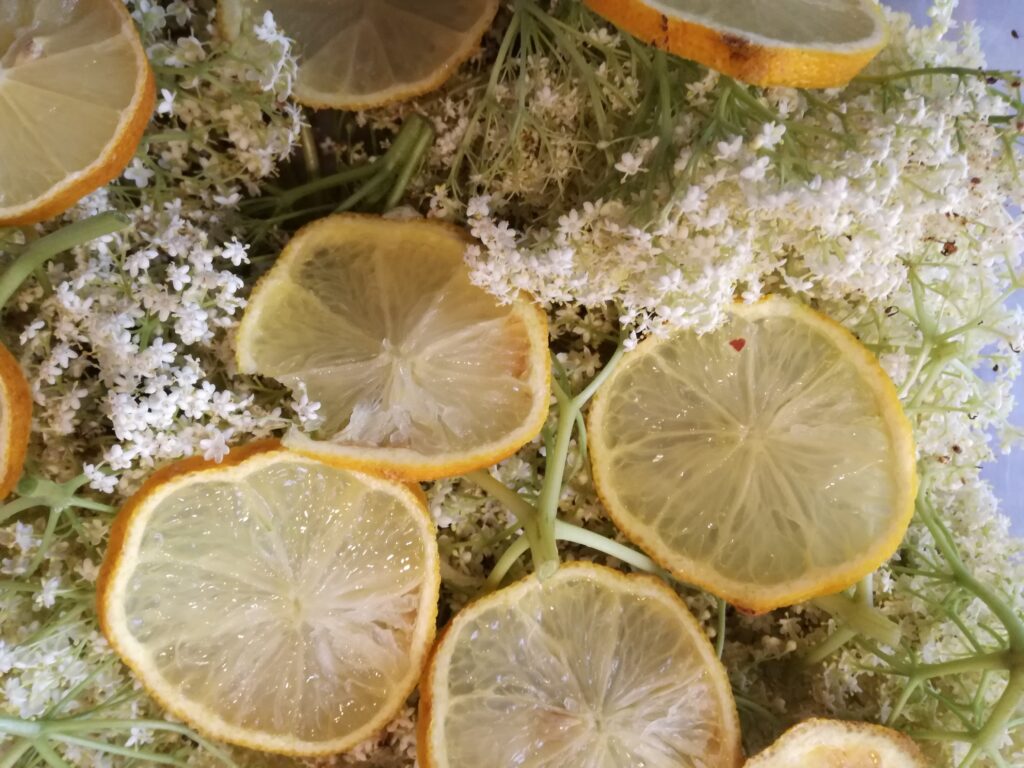 We love elder flowers – they have the most delicious subtle, sweet, fresh flavour. They start flowering in late spring/early summer and we cover them to protect them from frosts. And boy, is it worth it! Thanks to Mary Berry we know that the flowers can be frozen which means we can make elder flower cordial all year round. Here is her recipe with our tweaks.
Ingredients
2 litres water
1.2 kg sugar
25 elder flower heads
2 lemons finely sliced
50 g citric acid
Mary Berry also adds 2 Campden tablets to kill bacteria and inhibit wild yeasts but we have never used them and have not suffered for it.
Method
Put the water and sugar into a pot and bring to the boil stirring until the sugar has dissolved. Switch the heat off and leave it to cool. Put the elder flower heads into a large plastic/metal container and cover with the thinly sliced lemons. Sprinkle the citric acid over the lemons and elder flowers. If you are using Campden tablets, add these now.
Once the sugar water has cooled, pour over the elder flowers and lemon and leave overnight or longer. We leave ours for 48 hours. Strain the liquid through a fine sieve and bottle your cordial. Store in the fridge or freezer. Mix with cold still or sparkling water. Add a slice of lemon and/or a sprig of mint. See our recipe for elder flower and strawberry syrup.