Welcome to Pitlochrie Cottages recipes. Here is our recipe for Pitlochrie Joe's all-purpose white bread.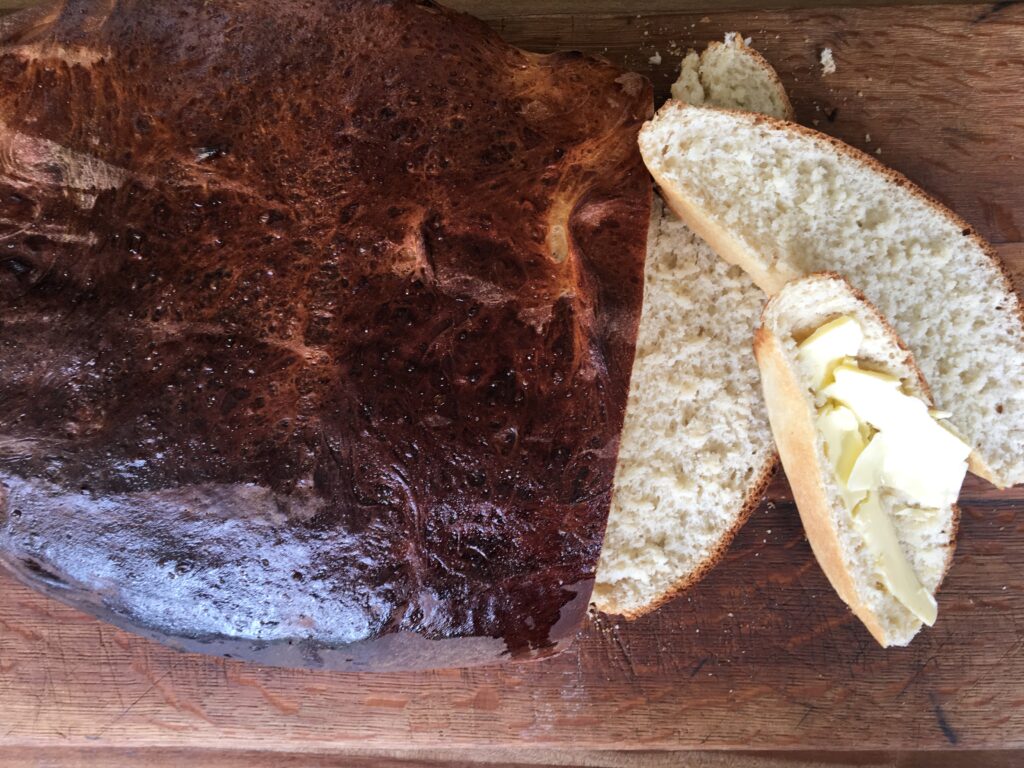 Our family loves bread, we love making bread, we love experimenting with different types and boy, do we love eating it. Bread making is an art and it is important to get to know the feel of dough. It becomes an instinctual relationship when the look and feel of your dough will tell you how the bread will be. Breaking bread together is an important ritual for us and here are some of our favourites.
Joe is the original master bread-maker. His strength in kneading produces the best, pliable dough and of course, the most delicious breads. Here is his easy white, that can be used for bread, focaccia, pizzas, and rolls. Remember if you want a sweeter bread, just add extra sugar.
Ingredients
4 cups white bread flour (substitute with cake flour if you want)
1 sachet instant yeast
5ml salt
10ml sugar
100 ml canola oil
About 350ml lukewarm water
1 beaten egg for glazing if you like
Method
In a large mixing bowl add the flour, yeast and salt together. Add the oil. Dissolve the sugar in the water and add to the mixture. Mix it all together and cover with a damp cloth and let it stand for 10 to 20 minutes (to autolyse the dough).
Now knead well. You can do the initial knead using a mixer with dough hook. If you are doing this by hand, start in the mixing bowl and when the dough has come together properly, transfer to a lightly floured flat surface. You may find that you need to add more water, as you don't want the dough too stiff. Knead until the dough is smooth and stretchy, this will take about 10 minutes if kneading by hand and 5 if using a mixer.
Lightly oil the bowl and put the dough inside. Cover with a damp cloth or sheet of plastic, I prefer to use plastic which I secure with an elastic band. Set this aside in a warm spot and let it rise to double its size. Remember the temperature of the room will affect the rising time – when it's cold it will take longer.
Once it has doubled in size turn it out onto a lightly floured surface, shape the loaf and set it on a baking tray (you can put it in a loaf tin; use this dough for any shape you want – plaits, rolls, buns etc), cover again with the plastic and wait for it to nearly double in size.
Bake
Glaze with egg if you like and bake in a preheated oven at 180 degrees/gas mark 5/6 for about 20 to 25 minutes. If you think it is ready, turn it over and check that it is cooked underneath. If still undercooked return to the oven upside down for a few more minutes. We like a nicely caramelised crust. Remove from the oven and eat with copious amounts of butter.
You can flavour your loaf however you want – garlic, herbs, peppers, cheese etc. Remember, if you are adding a wettish ingredient, reduce your water. You will add these ingredients to the flour before adding your oil and water.