Welcome to Pitlochrie Cottages recipes. Here is our recipe for Pitlochrie Matt's Ciabatta.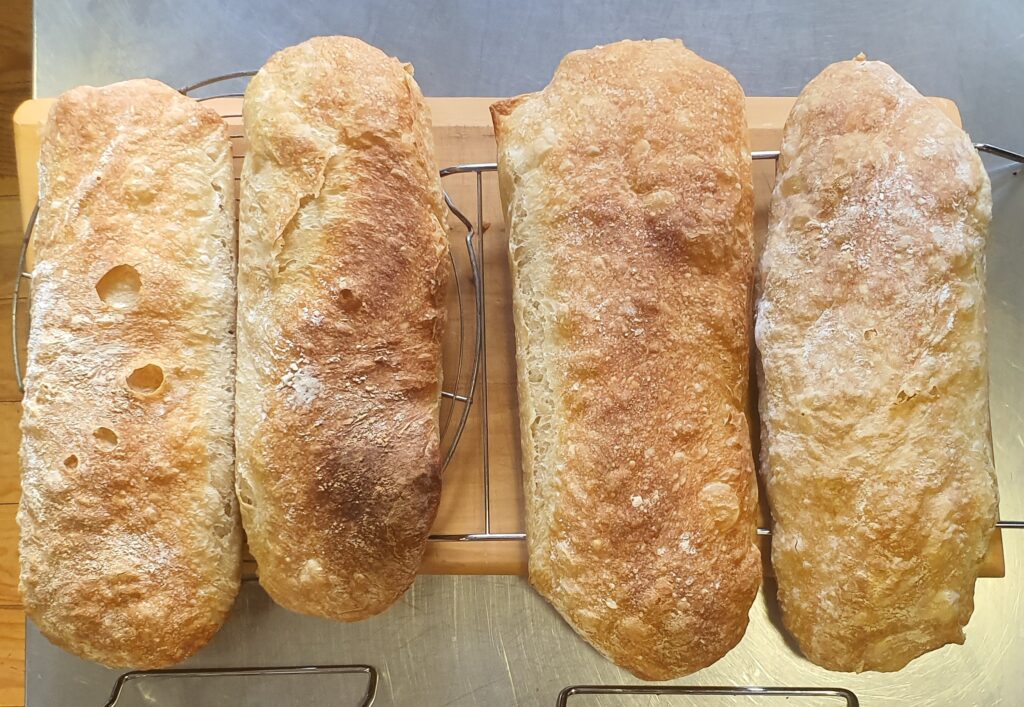 Like his father, Matt is a bread master. He introduced us to sour dough and played with these concepts to produce the best ciabatta we have ever had. The making is time consuming, but the results are extraordinary. You can also add flavours to the bread such as chillies, garlic, thyme, olives etc. Do this during the first fold.
Starter
500g water
500g strong flour (any will do – cake, white bread or brown)
Half a teaspoon yeast
In mixer bowl, put in water, then flour and then yeast. Mix by hand using the dough hook in your hand. Will be runny. Place bowl in mixer, and using dough hook, mix on slow first, and then medium. Aim is to mix it well and have no unmixed flour. Cover bowl with plastic wrap (we reuse plastic and elastic band for this purpose). Leave at room temp overnight. Next morning the mixture should be bubbly and full.
Dough Processing
500g water
700g flour
3 tsp salt (according to your palate – may want more)
Uncover bowl. Add 500g water, 700g flour, 3-4 tsp salt in that order. Again mix by hand with dough hook to ensure all flour mixes in and you get anything on the sides. Then put bowl back in mixer and mix on slow, and then highish. Leave hook in bowl, cover with plastic again and leave for 30 minutes at room temp to autolyse. After 30 minutes put back in mixer and mix on slow until you have a smooth mixture – will still have what looks like small lumps so doesn't have to be super-smooth. Prepare your container.
Dough Preparation
Use a large square plastic container, approx. 35 cm square, or two plastic cake containers if you decide to add flavour to half the dough (you can also use a plastic cake container for the whole lot). Take olive oil and wet the bottom and sides of your container completely. Use your olive oiled hand and rub the extra olive oil on your surface – I use a stainless steel surface.
Wet your surface completely with water. Wet your hands with water – any touching of the dough must be done with wet hands because it is super sticky. With wet hands loosen the dough from the bowl and pour onto wet surface. You will be folding the dough one end to the other end like you would with sour dough. Do at least 6 folds, maybe more, changing from north to south folds, and east to west folds. Using a dough paddle that you have wet with water, scoop the dough into your container. Cover top of container with plastic and leave for about 40 to 50 minutes depending on temp. If it is cold leave it longer, warm, shorter.
First Fold
Uncover dough – you should notice the bubbles are forming. Wet hands. Fold in the container. Do four to six folds, north south, east west. Easiest is to put your hands in the middle of and under the dough and lift up so the two ends fall together and place down gently. Remember you are trapping air, so the more the better. Cover container with plastic and leave for another 40 to 50 minutes depending on temp.
Second Fold
Repeat.
Third Fold
Repeat.
Fourth Fold
Repeat. You will now see the dough comes together and feels light and airy – may already have on an earlier fold.
Preparation for baking loaves
Prepare two roasting dishes with a light dusting of flour and cut four rectangles of baking paper that will sit in the roasting dishes – you will place the dough into these baking paper rectangles. Flour your surface well. Flour hands and dough paddle. Uncover plastic container and turn upside down above your surface so dough falls out onto floured surface. Quickly shape into a square using dough paddle, and start cutting your loaves decisively with the paddle.
Place each loaf into the baking paper in the roasting pan once cut. Place pans on surface and use something to keep a draped soft blanket off them – I use coffee tins. Drape the blanket over the loaves so they are not touching the dough but loaves are completely covered and leave for 30 minutes. Put your oven on high – mine is gas, so I turn it to gas mark 8 – not sure what this is in c's or f's. Place two small loaf tins with water at the bottom of your ovens. Place two baking trays in the ovens on the lowest wracks.
Bake loaves
You will need someone to help you place the loaves in their baking paper on the hot trays so that you don't squish them. Take hot trays out oven and transfer loaves in baking paper onto hot trays – two loaves per tray. Place in oven on lowest wrack. Turn oven down from gas mark 8 to 7. Bake for 27-30 minutes. Check loaves and bottoms. Will probably need to flip loaves and bake bottoms for a further 6 minutes. Take out oven and cool. Prepare yourself for heaven with butter!