Welcome to Pitlochrie Cottages recipes. Here is Ivana's winning recipe for Rye Bread.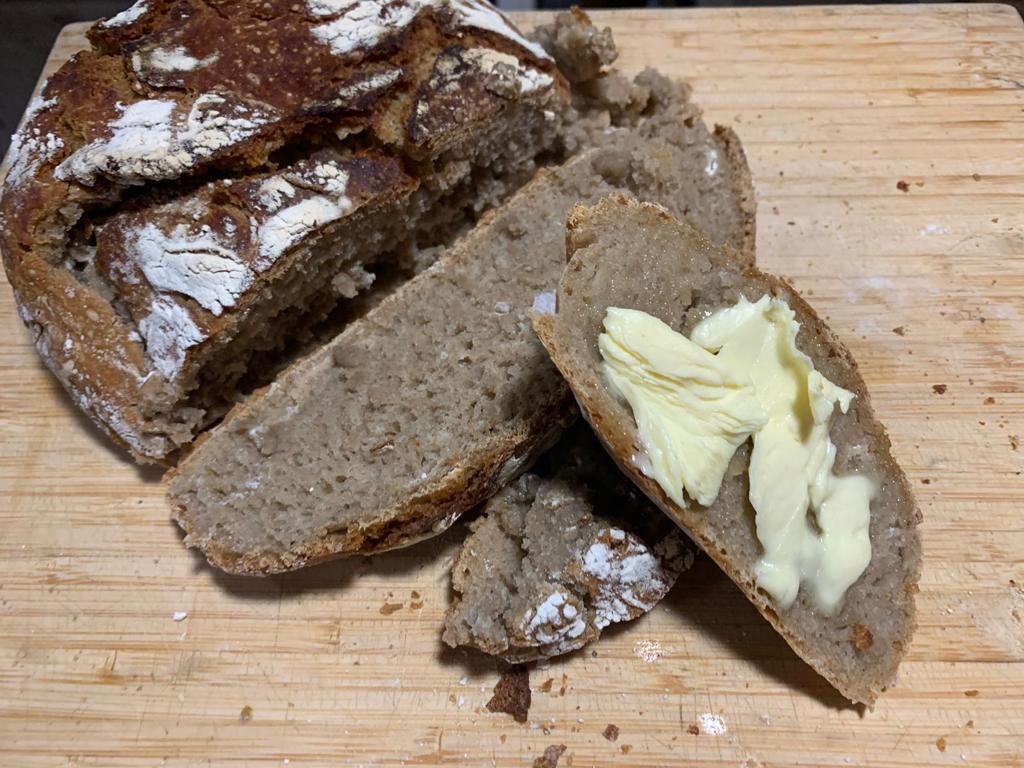 This bread is relatively easy to make and you need time to rest the dough. I suggest a few tweaks to the recipe below the method.
Ingredients
1.5 cups rye flour
1.5 cups cake or white bread flour
¼ teaspoon instant yeast
1.5 teaspoons salt
1.5 cups of warm water
Extra flour or mielie meal as needed
Method
Mix the dry ingredients together in a bowl and add the water to make a sticky dough. Cover the bowl with a damp cloth or piece of plastic that you attach with an elastic band to the top of the bowl. Let the mixture rest at warm room temperature for 18 – 24 hours, longer if it's cold. You want to see lots of bubbles on the surface of the dough.
First fold
Flour the surface of your counter well and flour your hands. Empty the dough onto the surface. It should be stringy and sticky. Quickly lift the outside edge of the dough inwards towards the centre to make a round shape, like you would with sour dough. You will be folding the dough over to the centre.
Put baking paper on a baking tray and cover with flour. Place the folded dough seam side down on the tray and cover the top with flour. Make sure you have floured your hands. Place a tea cloth over the dough and let it rise again for 2 hours. You want it to have doubled in size.
Preheat your oven 30 minutes before you bake the bread and put your oven on gas mark 8, which is about 240 C. Take a 5 litre oven-proof pot and place it on the lower rack in your oven. You want the pot to get hot with the oven.
When the dough is ready, take your pot out the oven and put your dough in it with the baking paper. It doesn't matter if it is a messy blob because it will come together in the bake. Put the lid on the pot and bake for 30 minutes. After 30 minutes take the lid off the pot and bake for another 15 to 30 minutes or longer, depending on your bread. When your bread is ready, remove from the oven and leave it on a wire rack to cool. Enjoy with lots of butter.
Tweaks
When I tried the recipe, my loaf had a fantastic crust but the crumb was a little dense. I decided the next time I make it I am going to try a double fold. This process will trap more air into the dough and make it lighter. The process will mean leaving the dough for 12 hours and then fold. Another 6 – 12 hours and then another fold, instead of the full 18 to 23 hours. Then the usual 2 hours and then bake. Watch this space for updates!